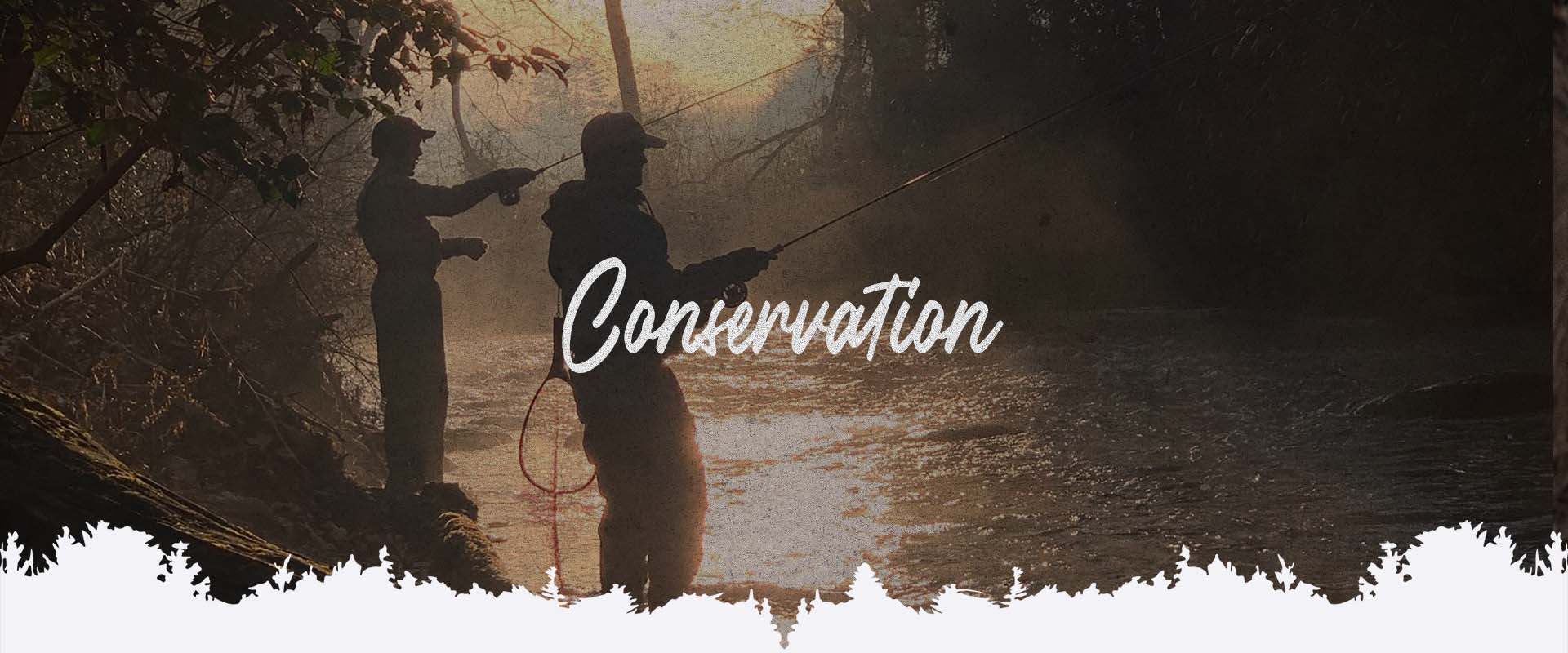 Conservation
– To protect & preserve Noontootla Creek –
Noontootla Conservation Intiative
Noontootla Creek in Blue Ridge, Georgia
Noontootla Creek is the southeast's most prestigious trout stream simply for its ability to inhabit the largest population of stream bred trout in the region. Noontootla Creek is about 12 miles in length beginning in the Blue Ridge Wildlife Management Area and ending at headwaters of the Toccoa River. The watershed in full is about 30 miles of fishable water beginning in the public portion managed by the Georgia DNR for decades, while private sectors belong to various landowners down the stream.
Our Mission
The Noontootla Conservation Initiative strives to protect and preserve the ecosystem of the Noontootla Creek watershed so that it will continue to support a healthy population of wild trout for generations to come.
What is NCI?
Noontootla Conservation Initiative is a project aimed to ensure that Georgia's most expansive watershed of naturally reproducing population of trout continues to be protected. We are very fortunate to have enlisted the assistance of the most qualified experts in our region to help us better understand habitat protection, the impact of invasive species, ecosystem stabilization, and outreach & education to the public on the importance and value of our efforts.
What is our plan?
We will continue to work closely with our resources to eliminate the issues we find in our streams ecosystem. By treating Wooly Adelgid in the Eastern Hemlock, removing Privet, Multiflora Rose, Autumn Olive, and other invasive plants and replacing them with native trees, grasses, and perennials. We plan to use these native plants to increase the buffer along the stream to help with erosion, run off, and to the shade the stream to maintain adequate water temperatures in the hotter months. Within the stream, we have began to monitor the fish more closely after being educated on the proper health of trout. By utilizing our training, we have learned how to properly survey aquatic insect life and learned the direct correlations to this food source for our trout. As we continue to visit more properties and portions of Noontootla Creek we will assist landowners in understanding proper stream structure & health and how they can improve it.
Why It's Important
Naturally reproducing populations of trout are increasingly rare in the state of Georgia. Including it's tributaries, the Noontootla watershed has over 30 miles of fishable water and is by far the largest of it's kind in our state. However, slightly higher water temperatures caused by a rapidly diminishing buffer or by the widening of the creek due to erosion, could be catastrophic to the trout population. Additionally, there is a high risk of disease or parasitic infestation being introduced into the Noontootla due to the poor stream health of many nearby creeks and rivers. Stocking the stream could be hazardous as this puts the wild trout at risk of diseases, which could result in a fish kill. It is crucial that we continue to encourage a wild trout population and make adjustments to our properties and sections of the stream to suit them accordingly. We find this project so important simply because we want to sustain the stream for generations to come.
Our Resources
Our coalition includes fishing guides, landowners, fishery biologists, environmental scientists, professors, fly fishermen, and fellow conservationists. We are honored to work closely with the Georgia Department of Natural Resources, the University of Georgia, the Fannin & Union County UGA Extension, Natural Resources Conservation Services, the U.S. Forest Service, and the U.S. Department of Agriculture. These experts have made our initiative what it is and have helped educate and train us to be effective conservationists for Noontootla Creek.
Noontootla Conservation Initiative was established to protect the 2 miles of the creek we maintain. In efforts to better sustain the creek and property they began to build a conservation initiative to serve the entire watershed. The Owenby Family alongside their partners continues to work towards the common goal of maintaining Noontootla Creek and providing a unique experience to those who visit it for years to come.
WE MUST NEVER FORGET THAT THE LAND AND THE WATERS ARE ENTRUSTED TO US FOR ONLY THE MOMENT ONLY, THAT FOLLOWING GENERATIONS MUST LIVE FROM THAT LAND AND DRINK OF THAT WATER. IT IS NOT ENOUGH JUST TO LEAVE SOMETHING FOR THEM; AS GOD'S STEWARDS, WE MUST LEAVE IT ALL BETTER THAN WE FOUND IT.
-LOUIS L'AMOUR-