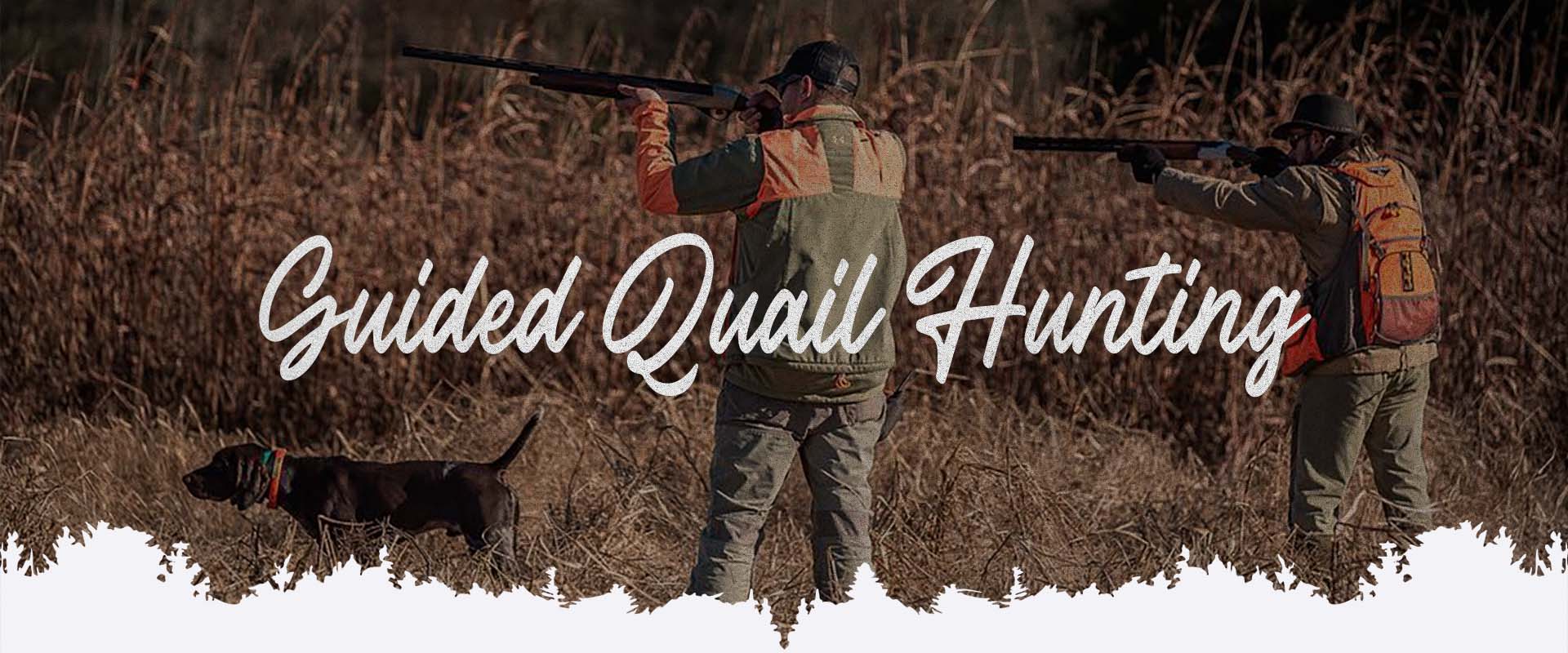 Quail Hunting Rates & Reservations
Season begins November 1st through February 28th (subject to weather conditions).
Quail Hunts must be booked with a reservation and a deposit made towards trip.
Guided Half Day Quail Hunt includes guide, dog & 12 birds or 4 Pheasants – $275 per person.
Guided Full Day Quail Hunt includes guide, dog, 24 birds or 8 Pheasants and lunch – $400 per person.
Additional quail can be added for $7 per bird (check availability).
Additional pheasants can be added for $20 per bird (check availability).
Continental Pheasant Hunt available for corporate groups, Contact us for more information.
A deposit of 50% of the trip price is required to reserve your trip. Your remaining balance will be processed automatically at start of your trip. An email will be sent prior to your card being charged that will allow you to edit any payment info, split trip, etc. If you wish to pay cash for your trip, that will be handled in our Pro Shop at the start of your trip. However, a deposit will still be taken upon booking.
Cancellations made 15 days or more will allow for a full refund of the Deposit.
Cancellations made 14 days or less will result in your deposit being forfeited. Your deposit may be used for scheduling of a future trip.
Contact Tee, our Farm Manager at 706-781-4019
Or, visit our contact us page to book your quail hunting trip.
Quail Hunting Rules
Current law requires all hunters to be in possession of a shooting preserve license.
A 2 year license costs $12 and can be purchased at Noontootla Creek Farms upon arrival. Alternatively, more information can be found at www.georgiawildlife.com
Anyone holding a Georgia Hunting license is exempt from this additional expense.
All hunters must wear BLAZE ORANGE VESTS.
All hunters must wear SAFETY GLASSES.
All walkers must wear BLAZE ORANGE VESTS or BLAZE ORANGE HATS.
All dogs must be under the control of the owner at all times.
Leads and electronic collars may be used, but dogs that fight and disrupt the hunts are not welcome. Please do not try to shoot and train your dog at the same time.
There will be a $10,000.00 charge for any dog that is shot (regardless of injury) during the hunt.
The use of alcohol and drugs before or during the hunt are strictly prohibited.
The 12, 16, 20, 28 gauge or 410 bore are recommended. We recommend improved cylinder or modified choke with #7 or #8 shots.
All hunters under the age of 18 must show proof of passing a Hunters Safety Course and be directly supervised by a parent or guardian.
Release from Liability Waivers must be signed prior to the hunt.
Hunter Safety Video will be viewed prior to the hunt.
Noontootla Creek Farms Waiver
For your convenience, we have added the Release from Liability Waiver for you to complete online before your trip.