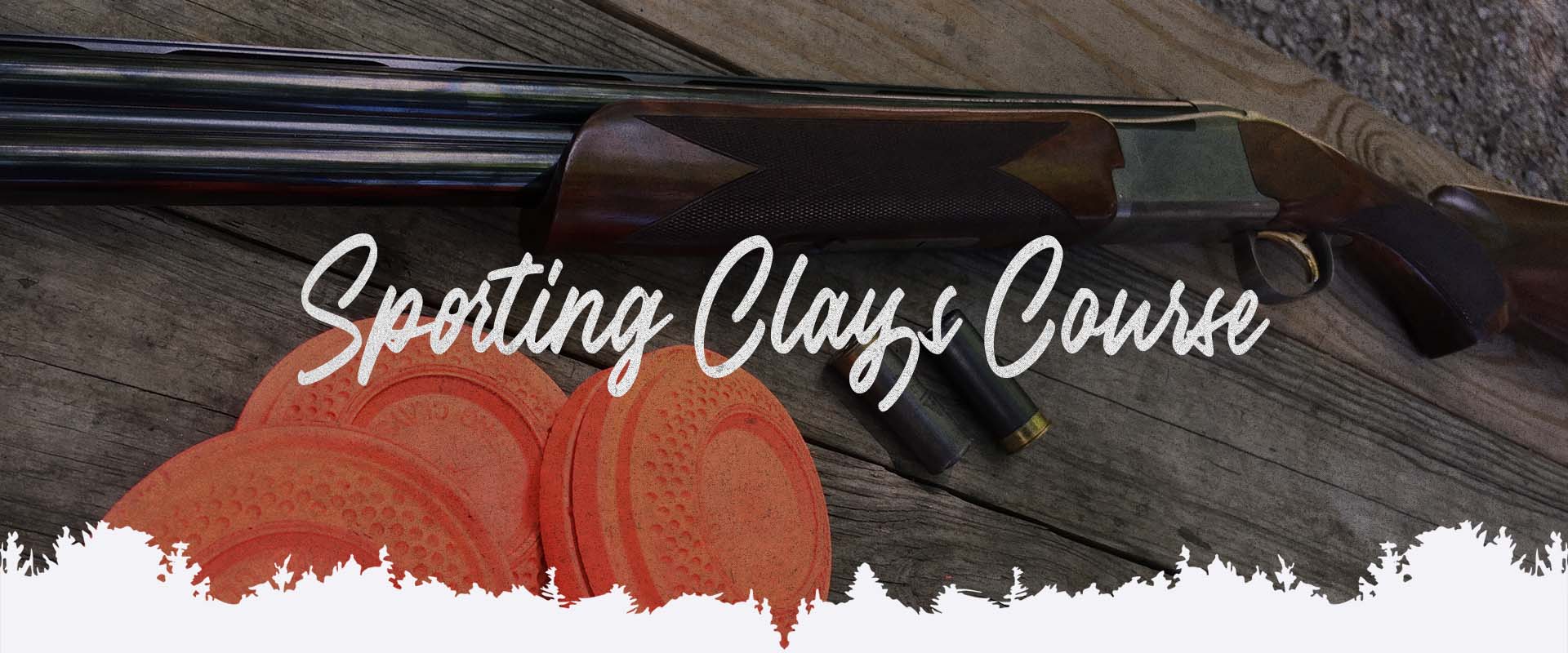 Sporting Clays Course is open to the public from 9AM to 5PM on Wednesday, Thursday, Friday, & Saturday and 1PM to 4PM on Sundays. CLOSED to the public every Monday & Tuesday.
No reservations are accepted, all first come, first serve.
September 22nd, 2023 – Union County Chamber Tournament – Closed to the public & members all day.
To register for this event please call the chamber at (706) 745-5789. NCF cannot register teams for this event. More information can be found here – https://members.visitblairsvillega.com/events/details/sporting-clays-tournament-2023-122903
---
Sporting Clays Course
Sometimes for a warm up our hunters will shoot a round of challenging sporting clays before hitting the fields in the afternoon. Noontootla Creek Farms has an amazing course that winds its way up to the top of the ridge where the beautiful Chattahoochee National Forest is visible from every angle. Golf carts are used for transportation to all of the 14 stations. One hundred shots completes the course, or you can shoot as many as you please. A 5 stand and wobble trap is onsite and is covered for those rainy days and is great for large groups. Guns can be rented and instruction is available to those wanting to try this addicting sport. We do not require or accept any reservations for sporting clays.
Sporting Clays Course Rules
12, 16, 20, 28, or .410 gauge shotguns only.
No handguns or rifles allowed; only shotguns.
Eye & ear protection is required at all times.
A maximum of two shells are to be loaded at once.
Only one person in the shooting box at a time.
No back up shooting.
Action must be open & clear when entering the pro shop or around other shooters.
Keep action open until entering the shooting station.
Guns are only to be loaded and ready to shoot while in the shooting box.
All spent hulls must be picked up and thrown away.
No loaded guns on the golf cart.
Light target loads only, no shot size over #7 1/2.
Must be 16 years or older to drive the cart.
We recommend shooters to be above the age of 12 but is left up to the parent or guardian.
Shooters under the age of 18 must be accompanied by an adult.
Pets must be kept on a leash and cleaned up after.
There is absolutely no tolerance for any alcohol or drug use before or during sporting clays.
Interested In Private Instruction?
We offer private instruction for $95 per hour for 1-3 people. This rate does not include clays, ammo, cart, etc., needed for the lesson.
You can reach out to one of our private instructors to learn more:
Rick Tipton: 706-851-6437
Mike Wick: 813-245-2104
Non-Member Pricing
100 Sporting Clays – $45 ($0.45/target)
Ammunition – $12 a box
Cart Rental – $5 per person
Gun Rental – $30.00
Private Instruction – $95 per hour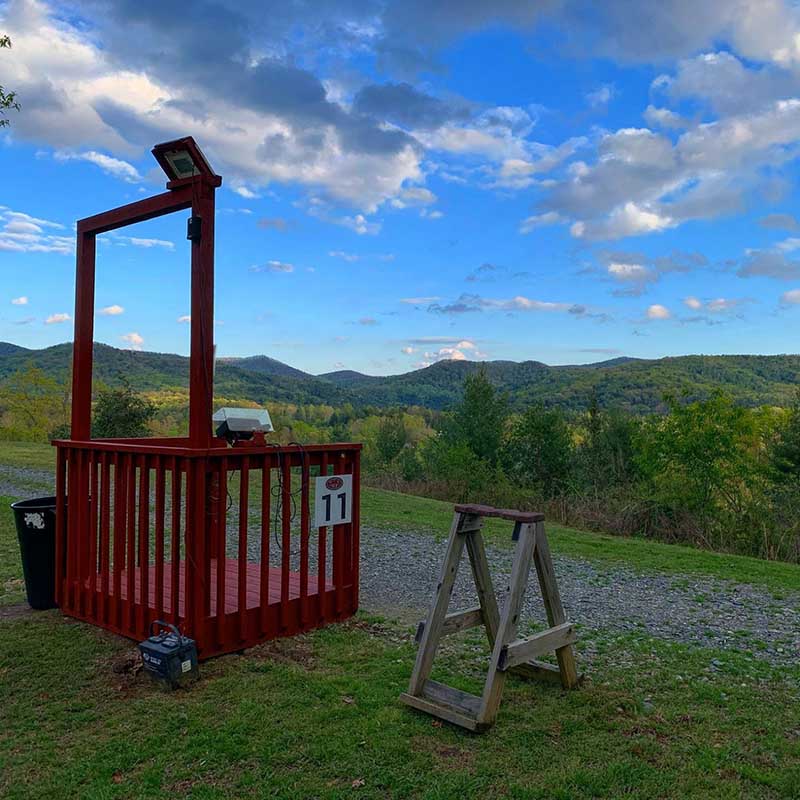 Member Pricing
100 Sporting Clays – $35 ($0.35/target)
Bulk Targets (min 1000)  – $0.30/target
Ammunition – $12 a box
Cart Rental – No Charge
Gun Rental – $30.00
Private Instruction – $95 per hour
Members are eligible for 10% discount on retail & sporting clays add ons. Guided reservations & other exclusions apply.
Individual/Family Membership: $250 for 1st Year, $200 each year subsequently.
Our individual/family membership allows you and your immediate family the opportunity to enjoy member status. Membership becomes effective the day you join and will be current until August 1st the following year.
Individual/Family Membership Privileges
Will receive 300 targets with payment of initiation charge the first year.
Discounted rates for sporting clays targets
Cart rental at no charge.
Receive one logo hat with paid membership.
Special discounts on selected retail merchandise. Excludes ammunition.
Members may bulk buy targets for discounted rate.
Private members day shoots offered during the year.
The Fine Print
Members are NOT permitted to shoot on any Sunday before 1PM.

Membership becomes effective the day you join and will be current until August of the following year. There will be a 45 day renewal grace period. If you do not renew your membership within 45 days of the renewal date. 

If membership is purchased outside of the month of August it will be prorated to the month of August for the following year.

All memberships are due for renewal each August no matter the original purchase date due to the prorated process. 

Membership card is a countdown card. Treat your preloaded cards like cash. If you lose the card, there is no way to track how many targets are left on your card. A $10 fee will be charged to replace a lost card.

Any member bringing a guest must sign the waiver upon arrival.

This program is subject to change without notice – NCF reserves the right to revoke membership privileges at any time for any reason.
*All membership fees will be due annually on August 1st. If you do not renew your membership within 60 days of your renewal date, you will be assessed a $25 reinstatement fee in addition to your annual dues beginning October 1st.
Have you renewed your membership yet? 
If yes, awesome! Thank you! You can disregard this email.
If not, let us help you!
There are three ways to renew your membership:
– Coming into our pro shop – cash, check, card accepted
– Calling us at (706)838-0585 – pay by card only
– Or by mail at 3668 Newport Road, Blue Ridge, GA 30513 – check only
ALL Memberships have expired on August 1st. Renewal is due by August 31st. If you have not renewed and plan to renew, please do it before the month ends!
Starting October 1st, any member seeking to renew their membership will receive an additional late fee of $25 if they renew after the specified date. To avoid the overdue renewal charge, kindly complete your renewal before October 1st.